2015 Annual Awards Ceremony – Winners
As the 2014 – 15 season winds down our 3rd annual awards ceremony was held Sunday June 14th here at the club.  It has been an amazing three years and is so encouraging to see the development and ongoing dedication of our fencers.  Here are this year's winners:
Most Improved Fencer
Youth 1 – Connor Lacey
Youth 2 – Jesse Hetherington
Adult – Jenn Gibson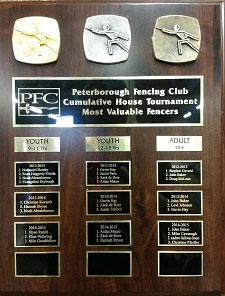 Rookie Of The Season
Youth 1 – Skye Harris-Stoertz
Youth 2 – Connor Brenna-Lawson
Adult – Jonathan Forshaw
Sportsmanship
Youth 1 – Tyler Davidson – upbeat attitude, energetic
Youth 2 – Hannah Bryan – hardworking, volunteering, Fairies
Adult –
MVF – Most Valuable Fencer
Youth 1 – Elise Rahiri
Youth 2 – Aidan Macro
Adult – John Baker
MVF – Most Valuable Fencer – Wall Trophy
Youth 1 – 1. Elise Rahiri  2. Elias Vollering  3. Milo Goodfellow
Youth 2 – 1. Aidan Macro  2. Zack de Boer  3. Hannah Bryan
Adult – 1. John Baker  2. Mike Cavanagh  3. Andrew Sullivan-Doner, Christine Pfeiffer
Team Tournament Trophy
Alex McInroy
Aidan Macro
Connor Lacey
Appreciation Awards
Aidan Macro – volunteering consistently throughout the season on Saturday Mornings and Wednesday Youth 1
John Baker – class Support, refereeing
Doug McLean – armoury, facility equipment, class support
Jon Bryan – computer support
Honourable Mention
All of our Volunteers throughout the season.
The many parents who provide feedback and advice.
To the parents again, for believing that this is more than just a place for you kid to do a "sport", for supporting our efforts here to raise strong, responsible, resilient kids.  Thank you!
First Annual HEXXIS Gameday Fundraiser Results
Saturday June 13th saw our first ever Hexxis Fundraiser for the 5 PFC fencers heading to Saskatchewan for the residential week-long summer camp.
30 competitors met to take part in head to head strategy playing Hexxis, Scott's own invention.  Food, beverages and a ton of laughs were had by all in attendance.
The tournament was won by Shawn Axford who defeated Evangeline Dryburgh in a thrilling final.  The door prize was won by Ava Wilson.
A huge thank you goes out to Michelle's dad and brother for helping with the chairs & tables plus manning the bbq to ensure the players were well nourished.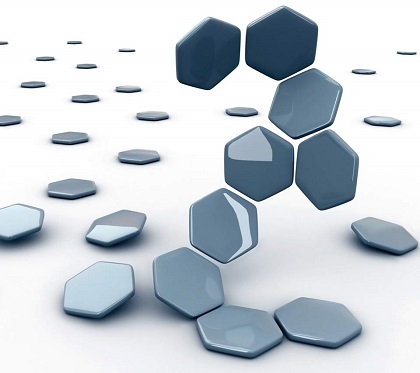 First Annual HEXXIS Gameday Fundraiser  Saturday June 13, 3:00 – 6:00pm
This summer a group of PFC fencers are heading to Saskatchewan for the residential week long summer camp.
We're hosting a 'Gameday Fundraiser' to help them out.  Come and play HEXXIS a strategy board game invented by our own Scott Nichols.  We'll have a fun HEXXIS tournament with prizes.  Tickets are $20 each and also include a burger and drink.  Contact the club to get yours today.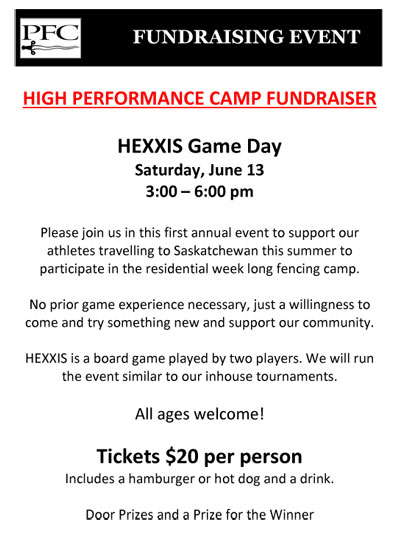 Awards Ceremony Sunday June 14, 2:00 – 3:30pm
PFC has had another tremendous season!
Please join us as we recognize the hard work of our students and the support of their families.  Speeches and award presentations begin at 2:30pm.  Awards will be presented for; Most Improved, MVF (Most Valuable Fencer), Sportsmanship, and Appreciation.
Light refreshments will be served.  See you then, and thank you.
Adult In-House Tournament Saturday May 23
Attention PFC members, you're cordially invited to the last in-house tournament of the year Saturday May 23, 2:30pm – 6:00pm.
Early bird entry fee of $22.60 per participant, hst included.  Register day of event for $28.25, hst included.
Fencers must be checked in 15 minutes prior to start and must be warmed up and ready to fence by start time.
Armband handicap rules apply.  Medals for 1st, 2nd and 3rd.  Semi-Finals and Finals using electronics (provided).  Minimum of 8 participants are required, please sign up on the sheet at the club or email Michelle at info@peterboroughfencingclub.com
See you then!
June 2013
To start, a heartfelt thank you to all of our members, their families and friends for the support given to PFC in our first full season. We have had great success as a club, both with community involvement and professional achievement. We truly appreciate how our members have spread the word, brought in friends to try fencing, and how willing people have been to support us when we asked. Your support during our activities with CHEX contributed to promotional material that demonstrates a club where members are learning and having fun doing something very cool! As well, we had many volunteers come in for extra attention from our coach candidates as they honed their craft during our spring line–up of coaching workshops. These types of actions show how beautiful our sport is and shows the quality of character that is within the walls of PFC. Some highlights to be expanded on in this website update include: increased membership, armband achievements, technical and athletic development, coach development, and more electric and athletic equipment. And lastly, although most importantly, we are conducting a membership survey before our regular season wraps up. Be sure to drop off your survey the next time you are at the club. However, if at any time you have questions or feedback, please do not hesitate to let us know.
Sincerely,
Michelle & Scott
Club Growth
Since we opened the doors at 275 Rink Street, just a little over a year ago, we have grown by 100 spots. Some of that growth can be attributed to members taking multiple classes but the majority is due to new members joining. This is great for so many reasons; however, it comes at a cost. A class that is focussed with little disruption from integrating new uninitiated members and that is supported by coaches who are not distracted is best. We have been looking at ways to maintain our growth, which is necessary for our survival, and do a better job of managing our classes. The recent addition of Community Instructors is a start. Read further into this WHAT'S NEW update for details on our other plans.
Introduction to Fencing
We want to ensure coaches are on the floor, attentive to the needs of all students and to PFC's seasonal plan. To support this objective, new students will be directed to Introduction to Fencing classes. These classes will be conducted every 7 weeks and students will have a choice of a Friday evening or Saturday afternoon class. Once completed, athletes wishing to continue fencing with the club will have been initiated at the White Armband level which will contribute to an easier and more successful integration into an established class.
Semester Based Memberships
Another way we are streamlining our processes to keep the emphasis on student's development is to move away from a monthly membership to a semester based structure. Our regular season will be divided into two semesters of five months each, running September to January and then February to June. One reason for this is to have a more functional office as every time a transaction occurs; it takes a coach off the floor. If we can become more efficient with our administration processes, everybody wins. The second reason is annual planning. Planning lessons over the duration of a semester maximizes the training benefits that can be achieved.
What's In A Name?
We are changing the classification of classes. Bronze, Silver, Gold and Platinum — these new classifications will better describe the development pathways that are available to members.
Bronze — one scheduled Technical Development class per week
Silver — two scheduled classes per week; either one Technical and one Athletic Development class OR two Technical Development classes
Gold — Three scheduled classes per week; any combination of Technical Development or Athletic Development classes plus one individual Private Lesson per month.
Platinum – Unlimited Technical or Athletic classes plus one individual Private Lesson per week.
Class Schedules
In September we are making changes to our class schedules, particularly Youth, in both the length of time and age groupings. Most fencing clubs have classes that are 1 to 1.5 hours in duration. PFC wanted to ensure adequate time during open fencing for members to practice but we are seeing that Youth classes of 1.5 hours in duration will provide plenty of time for this activity but without the heavy amount of coach redirecting and control needed under our current length of class. Age categories will be reset to 8–11 years old and 12–15 years old for Youth and 16+ for Adult. We will make some exceptions based on need, please talk to us if this change negatively impacts you.
Our new schedule in September will be:
DAY

Week Nights

Saturdays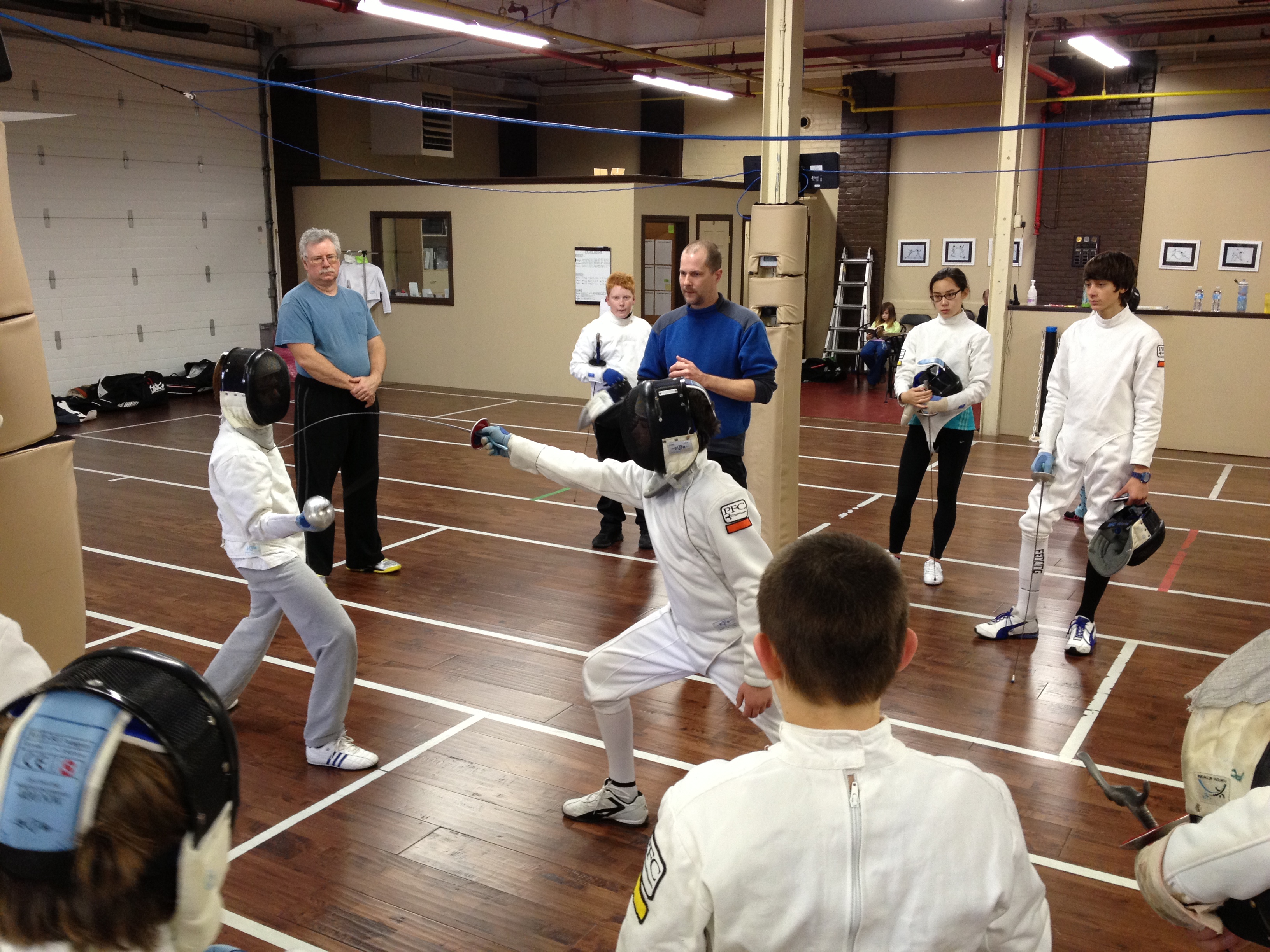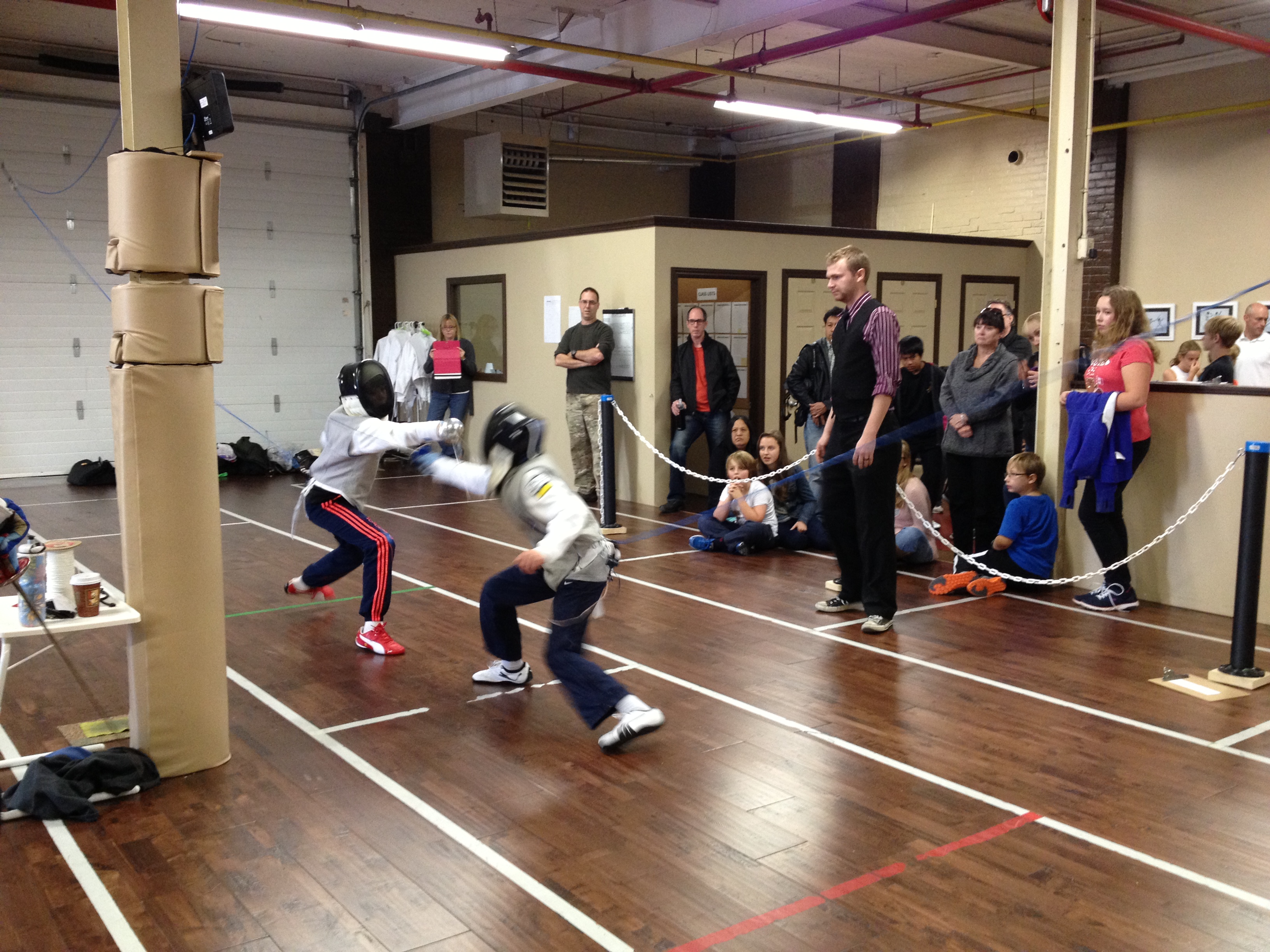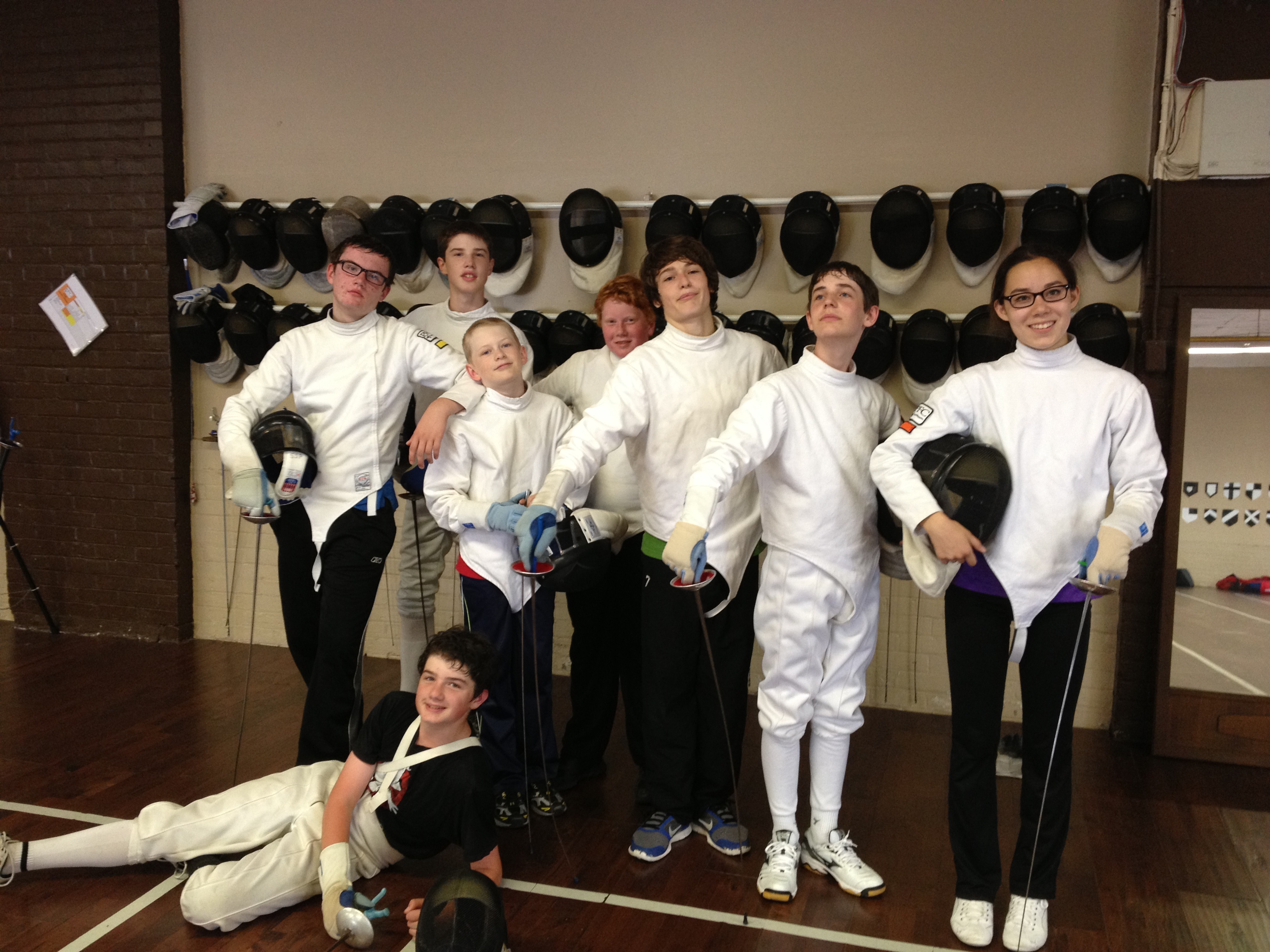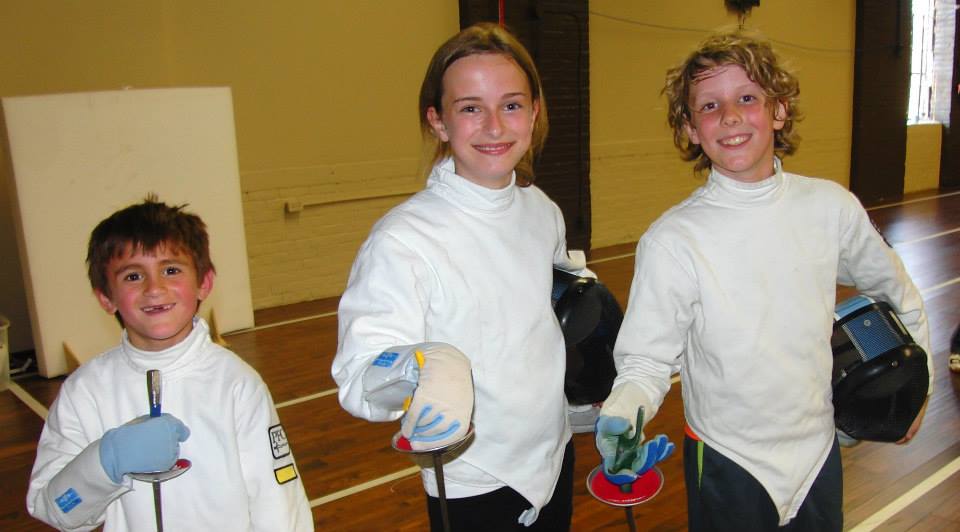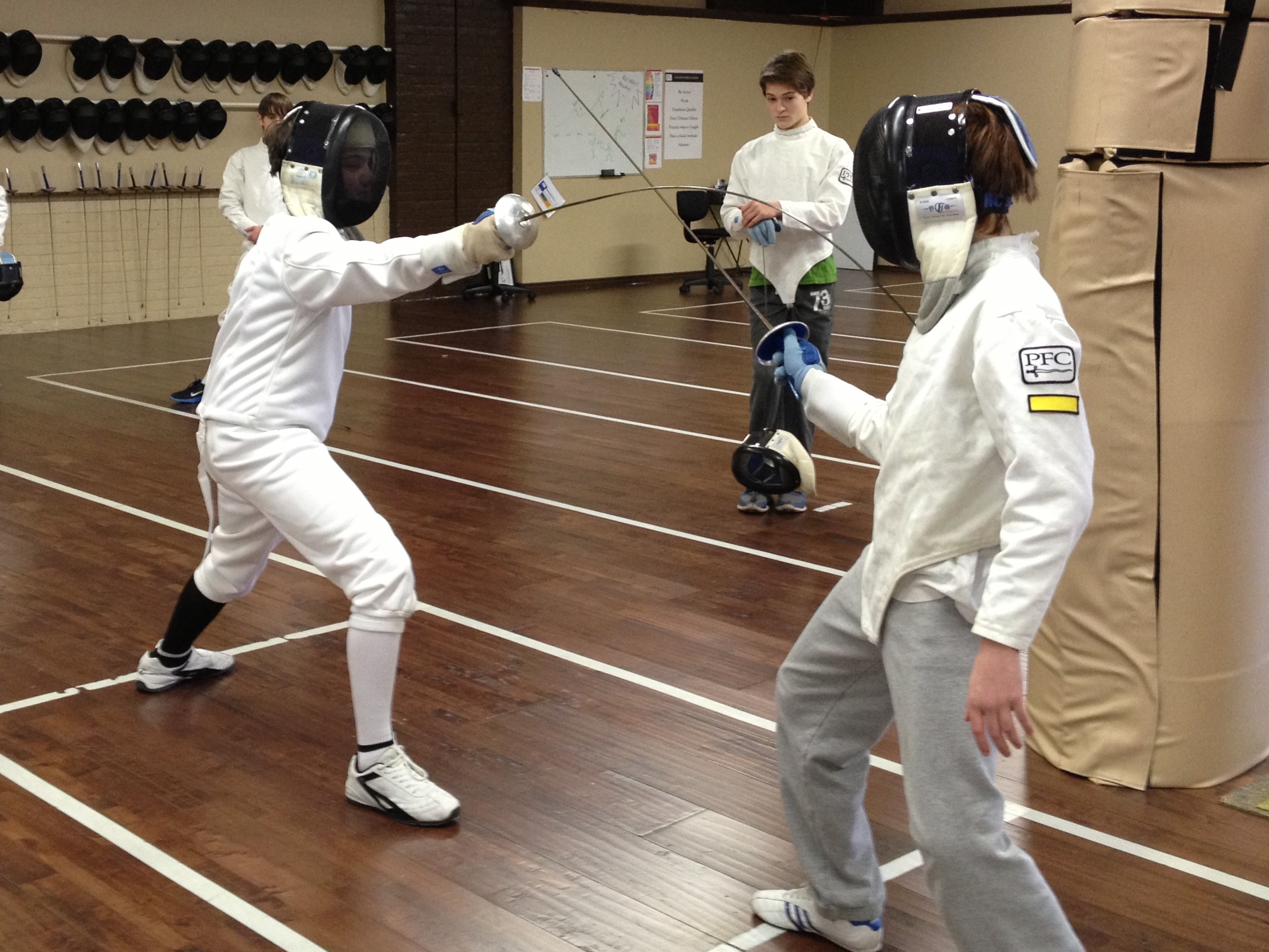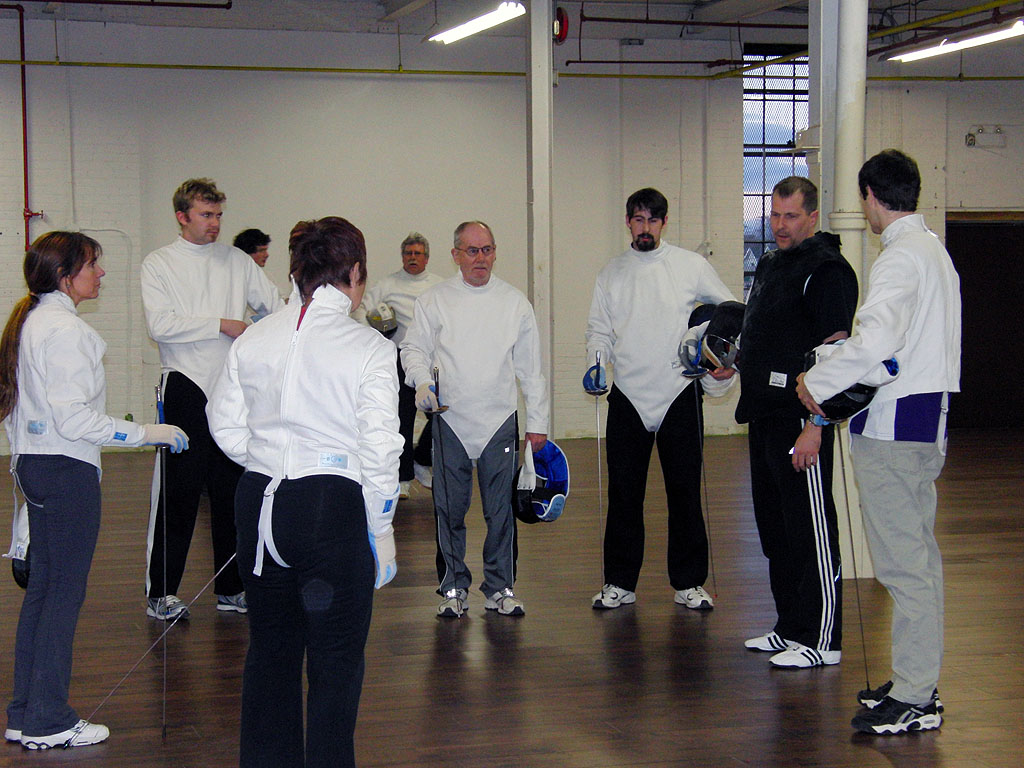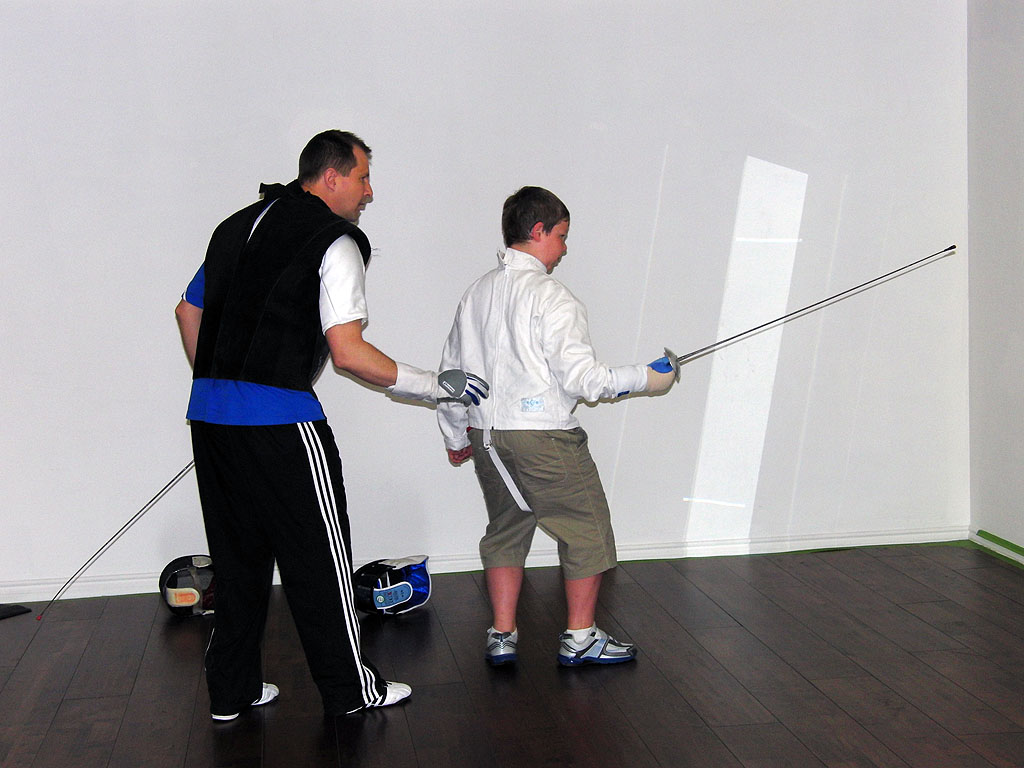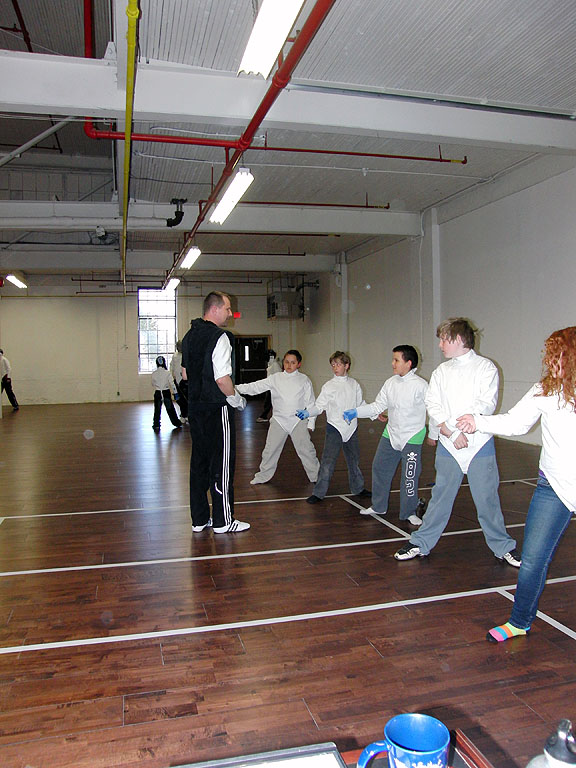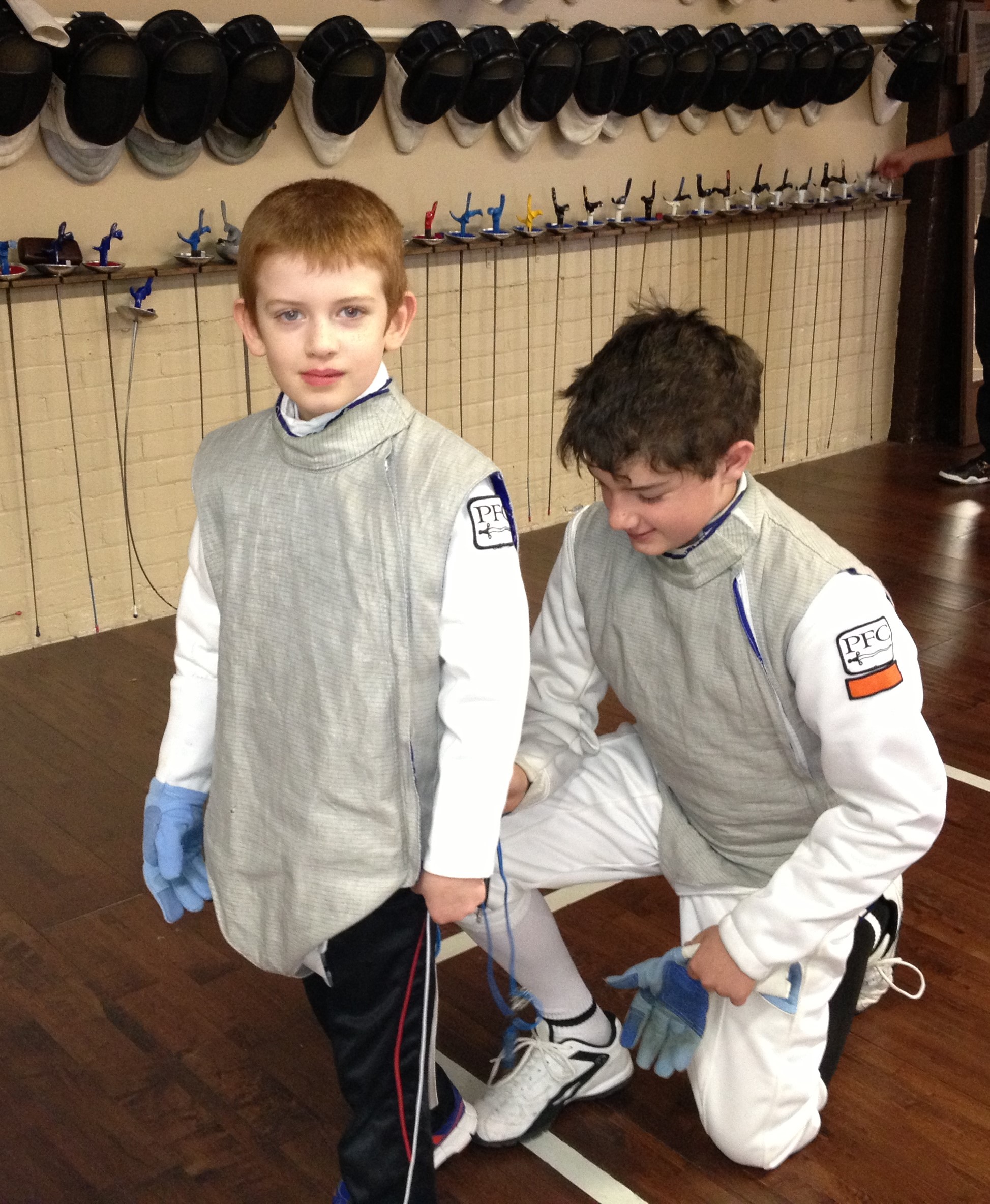 Registration for September 2013 Season
There are a couple of important changes to take note of with the switch to a semester program. Firstly, our payment plan will change to dues collected on a set schedule of dates. For the Bronze program it will be twice – at the start of each semester, namely September 1st and February 1st. We realize this requires students to commit to a full semester or forfeit dues already paid. Exceptions will be made for withdrawals due to medical reasons. Secondly, prices will be increasing by $5 per class; however, current members can avoid this increase by taking advantage of our Early Bird Registration.
Current Members: Register before Wednesday, August 28 to ensure the lower cost and reserve your current class spot.
HST
Early in the New Year HST came to PFC. Those that had given us post-dated cheques were grandfathered so have automatically been getting a HST discount. Going forward all memberships for the summer/new season and equipment sales will have HST collected.
Armband Program
The armband program has been a foundation of the club since its inception. Its effectiveness towards student growth is really starting to show. The majority of our members have earned their yellow armbands, with a small group achieving orange and a couple steadily moving towards green. Well done!! The connection between skill acquisition and better fencing is clear. Fencing IS a combative sport; however, skill acquisition is a great tool to develop all participants at any age, and not just those that are driven to win. The quality of skill in our athletes was very evident to the coaches who attended our various coaching workshops over the last three months. Their comments underscored the significance of the armband program for pure athlete focused development but also for providing pathways to other areas of fencing.
Physical Literacy Training/Testing
PFC was built from the ground up with a focus on values that would enable us to make a difference in the lives of our members. We want to turn youth and adults into fencers and we know that to do that successfully athletic development is important. And in order to excel athletically, physical literacy is the key.that first stepping stone to an active, healthy lifestyle.
Canadian Sport for Life This is a wonderful resource that has great videos on the reality and challenges of today's lifestyle.
Beginning in September, we will have identified those core physical literacy tasks that help contribute in our fencing world to a foundation from which solid development can be built. Like our technical training matrix gives feedback to students on their mastery of key fencing fundamentals, so too will regular assessments on these core physical literacy tasks. Married together, these two core elements will provide fencers with the solid foundation they need to succeed.
Comp Info Night
PFC has several fencers ready to start exploring the larger province wide stage of tournaments outside of our club next season. On Tuesday, June 25 at 7:30P.M. we will host our second Competitive Information session where we will share with students and their families everything you need to know about competitive fencing. This is an important session if you or your child wants to start participating in tournaments outside of PFC next season. Please let us know if we can expect you.
Year–End Awards Ceremony
Please hold Sunday, June 23 from 2:00P.M. to 3:30P.M. open on your calendar. Why? This is our year–end awards ceremony. We are having a tremendous season and want to recognize the hard work of our students. Award presentations begin at 2:30P.M.
Summer Activities
PFC's regular season will end officially with the last class scheduled on Thursday, June 27, but that doesn't mean our doors are closed. We have a busy summer planned that will include Summer Camps, Open Fencing Nights and an Athlete Development camp.
Summer Camps are Monday to Friday, in both July and August, for youth ages 8–14 and will combine fencing and archery. We are partnered with the City of Peterborough for these programs that are designed for acquisition of skills in fencing and archery. While most of our fencers are into the consolidation stage, it is a great camp for first contact with both sports. See our page for more information.
Open Fencing Night for those members who want to stay sharp and are loath to relinquish their foils to the dark of a closet bottom.will be held each Wednesday evening, from 6–9 pm starting July 3 and ending August 28. The entire summer fencing for $50 plus HST!
Athlete Development Camp will be held August 26–30. This is a serious camp for those members wanting to jump into the regular season in full stride. It will be a fast paced, high intensity camp for those willing to develop at an accelerated rate. Stay tuned as more details will be posted on our club bulletin board as well as on our website.
New Equipment
One of PFC's founding precepts is to "advance" so adding equipment to our salle to support your fencing activities not only makes sense but is important to us. We have over the last few months added to our electronic gear bringing the club up to 12 electric foils, lames in multiple sizes, supporting body/mask wires and three scoring machines (a fourth machine is planned as well). Providing this equipment allows members to get a taste of how the sport is enacted, in particular, during our in-club tournaments. Although expensive, as members get more involved in the sport, it is worthwhile to provide this exposure to help in understanding the art of sport fencing. In addition, we have added several pieces of athletic equipment to our line-up of goodies designed to make us better fencers. Extensively used during our Athletic Development class on Thursday nights, we have on occasion shared these tools during regular classes. Equipment like this is in need of constant maintenance so to that end we now have an Armourer (Doug McLean) to assist us when repairs are required. Doug is a familiar face around PFC, contributing as a Community Instructor during the Youth classes and participating in many of the adult classes as a student himself.
January 2013
A lot has happened at PFC since the summer—great athlete development, new programs, coach development, Michelle's retirement, our first in–club tournament, our first medal at an Open tournament, a newspaper article, production of a TV commercial and most importantly the building of a great fencing community. We invite you to read on and learn more about these many accomplishments.
Coach Development
In August, Coach Hugh Munby, Coach Scott Nichols and Megan Curran travelled to Saskatoon for athlete and coach development directed by Maître Claude Seguin. At the conclusion of the two week camp, Hugh and Scott were evaluated by Maître's Jean–Marie Banos, Lynn Seguin, and John Brunner. After a very intensive and extensive review, Hugh attained his Level 4 Foil coach credential, and Scott his Level 3 Foil. Megan helped as a student during the coach development portion of the trip. During the second week, she was exposed to some of the best cadet and junior fencers in Canada during the residential camp. This is a superb camp for the serious athlete wishing to advance in all areas of their fencing and is an ideal way to be ready for the start of the fencing season. Hopefully, she will be joined by more PFC members in the coming years.
Growth
Going back to the Spring of 2012, PFC ran two weekly Youth classes – one on Saturday and one on Wednesday and by May this expanded to include a Monday class. Today these three classes are at capacity. The benefits of full classes, aside from strong bonds forming amongst our athletes, is that it allows us to train very consistently, develop skills quickly and work the annual plan to its fullest. The Adult classes are not as full; nonetheless members are developing very well with robust appetites which make for focussed and lively classes. Most of our adult participants have earned their yellow armband with a few earning orange armband. We were happy to add a Saturday morning Kids class to the line–up in September for 6–8 year olds. This class has been a lot of fun, starting the morning off with a huge injection of energy and providing development opportunity our Community Instructors and volunteers.
Retirement
Michelle has retired from Canadian Tire after 26 years and is now devoting her expertise and energy into managing the business of PFC. Her ability to support the club full–time has allowed us to increase the size of some classes and stream–line the office processes. Michelle is now able to devote more time on the floor to develop as an athlete and Community Instructor.
PFC Tournament
In December, we were extremely happy to hold our first in–club tournament giving our members a place to test their skills. This is the first of three tournaments planned for our 2012–13 season. Coach Hugh was very generous with his time and knowledge and that led to a smoothly run tournament and a successful day. The tournament provided ups and downs for our athletes, with moments of joy and moments of tears. It did what tournaments are supposed to do; it created vast amounts of opportunity for learning. The tournament format (accumulation of points) and results can be found under the Competition page.
Housekeeping
We rolled up our sleeves over the holidays and spent some quality time with paintbrush in hand at the club. Except for some minor spots here and there the painting is almost finished, coat hooks have been installed and entrance mats put down in various places to control the winter mess. In addition, Doug McLean planned, designed and installed our over–head wiring system and set-up the VSM (virtual scoring machine). PFC now has 3 of our 4 planned strips wired. So a special "thank you" to Doug!
New Classes
Beginning in February, we are adding a Tuesday evening Youth class from 5:00P.M. to 7:00P.M. and an Athletic Development class on Thursday evenings. The additional Tuesday Youth class will follow our standard format 2–hour class. The Athletic Development class will be part of our new Silver and Gold programs. Generally speaking, it is designed to be your 2nd or 3rd class, with the focus on athletics rather than technical development.
Coach Development
Coach Hugh will be starting a CDP (Coach Development Program) in the spring that will lead to certification for Community Instructor, Assistant Coaches known as Aid–Moniteurs, and a coach mentoring process. This will support us directly and bring many coaches to study under PFC's roof. Watch for details.
August 2012
PFC's awesome fencing and archery summer camps, enjoyed by Peterborough and surrounding area's youth, wrapped up in July to rave reviews. The critics? The campers themselves! See their testimonials on our Camps page. And be sure to take a moment to check out the pictures located under the Gallery tab for a view of some happy and tired youth.
Surprise! Surprise! We have had a fabulous response to our Summer Open Fencing program held throughout the months of July and August. Our members just couldn't get enough of the great fencing and great times at PFC so supported our open format each Wednesday evening despite the high heat and humidity. Thank you members for your support and contributing to the great community experience!
Our new season is set to begin in September!! We are excited to bring the community more offerings in the number of classes available and in Armband specific classes to work technical skills. Please see the Class Schedule and Registration tabs for further information.
We've finally shifted through the shoe boxes and selected a bunch of photos for our Gallery page. Witness PFC's journey in pictures, from our small start in the Sports & Wellness Centre to the building of our very own dedicated facility on Rink Street. There are also plenty of pictures showing the fencers who are a vibrant part of the community that is the Peterborough Fencing Club. Enjoy!
May 2012
Summer is in sight! Do you need a great place for your children to grow and learn over their summer holiday? Peterborough Fencing Club has a combined fencing and archery week long day camps for youth aged 10–14. See our Camp page for more details!
April 2012
We're still the new kid on the block but the growth that Peterborough Fencing Club has experienced since our start on January 7 of this year has been tremendous. As a result, we are excited to announce the opening in April of our very own dedicated fencing facility!
Our new home is located at 275 Rink Street, Unit 14, Peterborough. That's just a few short blocks from the YMCA and right beside Rock and Rope for those familiar with these popular facilities.
New classes added on Monday and Wednesday evening in addition to our current Saturday offerings. Please check the Class Schedule page for more details.
January 2012
Why Should I Fence?
The following article by Richard Cherry comes from the 1995 issue of American Fencing magazine. Richard Cherry has served as the Junior Olympic Chair for the Oregon Division in addition to coaching young fencers.  Click here to read the article.